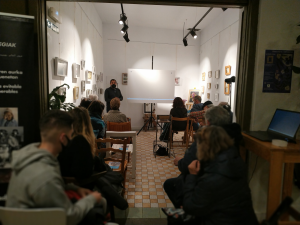 On 14 December, Eyes of the world/Munduko begiak celebrated the opening of its delegation in Pamplona in a presentation that culminated in the screening of the film Gabor at the Geltoki cultural space. The Foundation has been based in Navarre since 2013 and is registered in the Negotiated Association of Associations, Foundations and Professional Colleges of Pamplona. It was in 2018 when it began to carry out activities aimed at citizens and in 2021 when it opted to make a qualitative leap and have more presence in the area with its own team tracing new links with individuals, companies and institutions sensitive to the struggle against preventable blindness.
The event was attended by the delegate of the Foundation in Navarre, Kike Otaegi and an exhibition by Alfonso Noboa, the new coordinator in Navarre, who explained the projects that are being carried out in Navarre and the future plans of Munduko begiak in this community. Specifically, he explained that, thanks to the previous work of the volunteer staff who have supported us, we have now managed to have a stable presence with a physical delegation in Pamplona/Iruña. That has allowed us to strengthen ties with citizens and institutions in this community, thus channeling the solidarity of the people of Navarre towards the projects carried out by the Foundation in countries such as Mali, Mozambique, the Sahrawi Refugee Camps in Tindouf (Algeria) or Bolivia, as well as raising awareness in Navarre about the global situation of eye health.
The event also included the screening of the film Gabor, directed by Sebastián Alfie, which addresses the story of Gabor Bene, a blind cinematographer who travels to Bolivia to take part in the filming of a documentary clip about cooperation activities of the Eyes of the world Foundation/Munduko begiak in the Andean country. The filming shows Gabor's personal overcoming despite the difficulties and limitations of losing his sight. The meeting concluded with a toast of celebration for the renewed delegation and for the prosperous future of the action Eyes of the world/Munduko begiak in Navarre.
About twenty people took part in the proposal at the Geltoki cultural and exchange space, some of whom have been and are responsible for the success of Munduko begiak since 2018, through their collaboration in many different areas in Navarrese society. That is why the representatives of the Foundation took the opportunity to thank them for their contribution to the fight against preventable blindness and for universal access to the right to eye health.