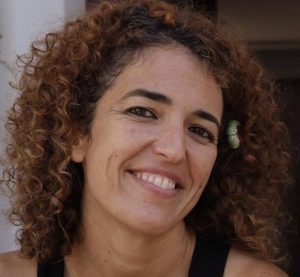 Mar Correa is an international consultant specializing in gender issues, development, education for development and human rights. She was born in Huelva and has collaborated with the Foundation, developing the gender diagnosis of the organization and accompanying in the design of the entity's gender strategy.
How would you define the work of a consultant that specializes in gender issues?
One of the main functions is to create spaces for meeting, reflection, and exchange—both individual and collective—so that the people with whom we work become aware of gender discrimination- and that from there they contribute to the creation of equitable environments and practices that focus on the overall care of human life.
It is work defined by listening, detection of needs, interests, capacity building, awareness, and integration of the gender perspective in all levels, all moments, and all areas of performance of the organization one is working with.
This includes the personal and professional dimension, the individual and the collective, the culture of the organization, its external interventions and all its structures: vision, mission, strategic documents, operations….
What has your recent collaboration with the foundation been? What do you think is the key to defining and implementing a good gender policy?
I have conducted an analysis on gender equality with regard to the organization, and have helped in the design of a gender strategy, supporting the strengthening of the organization's capacities and its strategic vision for the effective integration of a gender perspective.
The key is a good analysis that identifies the needs and interests, followed by a realistic design of a gender policy that starts—with appropriate external assistance— with the reality of the organization, understanding that "reality" is how the organization organizes its resources in a way to fulfill the responsibilities it has, as an actor of development, to address gender equity. That is to say, "reality" should not be understood as a system of "measurement" for the compromises the organization may assume, since these are a given for any actor of development. The thing is that, the improvement from this minimum agreement: Beijing´s Platform for Action, Convention on the Elimination of All Forms of Discrimination Against Women (CEDAW), Sustainable Development goals, and public policies regarding the application of the gender policy in the territory of Eyes of the world's headquarters, and in all the locations where it intervenes, will all add up.
Implement it, at least in its strategic, operational, and organization dimension. Also:
Focus on continuing education in gender
Participate in forums of debate, reflection, and decision-making
Allocate sufficient and appropriate resources to carry it out
Implement the necessary mechanisms to manage the knowledge that is generated
What are the factors that hinder women's full exercise of their rights, both individually and collectively?
Patriarchy, chauvinism, and sexism.
In other words, the resistance of men to renounce their gender privileges, which put them in an advantageous position in relation to women.
Men have to take a step back in many areas of life: in decision making spaces, in their creation of opinion, in the generation of knowledge, in court, in legislation… and they need to take a step forward in others: to ensure women the right to a life free of violence, to be responsible for the care of children and human life…
The capitalist model, which promotes blind growth, which only has appreciation for what is priced, that assimilates wealth with accumulation of heritage, which feeds the fiction that we are individual beings, denying codependence and interdependence, is also a major obstacle to the consolidation of the feminist proposal, as it violates its central objective: good treatment and fairness.
Violence- in all its forms of expression- is also a central obstacle for the full exercise of women's rights.
The same goes for discrimination and all impediments to women developing their capacity for autonomy.
The lack of co-responsibility in regards to the care of children and life.
It is of paramount importance to bear in mind that gender discrimination interacts with other factors of privilege-discrimination (without one there is no other) such as those originating according to age, ethnic group, social class, sexual orientation, and the state of health… and that this intersection creates situations that aggravate the discrimination originating from gender. "Discrimination does not add up, rather multiplies among itself."
In order to subvert this established order, it is necessary to act in an integral manner, to contribute to a world free of violence, where the capacity and agency of women is strengthened, where models of masculinity and femininity are promoted but are not hegemonic, to deactivate the association of a sex with a specific gender and to break the dichotomous and hierarchical relationship between the two groups. To do this, it is necessary to dismantle myths and beliefs, to learn to look at other ways and in other directions, to learn new categories of analysis, to show other ways of promoting good treatment and fairness, to generate changes in behavior, to influence public policies and a long etcetera that promotes a sustainable model of human development with the care of life at the center.
Do you think it's possible to transform power structures in traditionally chauvinist societies?
Without a doubt. It is imperative that men understand that the transition is also their responsibility though.
Women and men have to push this together, with shared but differentiated responsibly, yet all with a common goal.
Education is fundamental, continuous education, education in and with feminist values.
The participation of the public authorities as holders of obligations is essential, as is that of the citizen as rights holders and that of all the social actors as holders of responsibilities.
Comprehensive, multidisciplinary actions are needed at all levels, in all areas, at all times, because discrimination against women is present in all disciplines, at all levels, in all environments and in all moments.
In many countries, especially those with scarce economic resources, women are deprived of primary care such as health and ocular care. Where do you think we need to start to change this situation?
Essential actions: work with a focus on rights and with situations described as a violation of rights, so that from there women perceive themselves as rights holders, and the rest of society follows, so then with all members of a community they can make the public authorities fulfill their obligation to guarantee the ownership, enjoyment, and enforceability of these rights.
From there, this situation can be transformed with education, with the fight against violence against women, with initiatives that are truly committed—with the words, facts, and adequate resources—to the rights of women.
Promoting participatory analyses in which the protagonists express their desires, their needs, their interests, their strategies…
In your opinion, what three words best define the Eyes of the world Foundation?
An organization with a large human team, resilient, with great capacity to adapt and change, with an enormous willingness to promote sustainable human development that is committed to the empowerment and rights of women.
How do you see the future through your female eyes?
Women and men who place human life in the center and feel neither fear nor shame to do it and to say it.