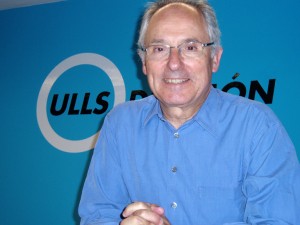 In developing countries, ophthalmic care is seldom a priority due to the high cost of treatment and the fact that it is not considered one of the basic human needs. However, this is a grave misconception, as avoidable blindness is one of the principal causes of unnecessary human suffering. It has the potential to cause poverty, social exclusion, and can even lead to early death.
According to the International Agency for the Prevention of Blindness (IAPB), there are 1.1 billion people living with vision loss today because they do not have access to basic eye health services, almost 90% of whom live in low- and middle-income countries, and 90% of all cases could be prevented with the means and techniques we use in most developed countries.
My passion for the fight against avoidable visual impairment stems from my own personal experience. I suffered a retinal detachment, which I was thankfully able to cure after several surgeries and the incredible care of Dr. Borja Corcóstegui. Thus, as a result of my experience coupled with a trip to the Sahrawi Refugee Camps in Tindouf (Algeria), Dr. Corcóstegui and I decided to found Eyes of the world. With the generous help of scores of volunteers, we are committed to changing the ophthalmic reality in underprivileged populations, where avoidable blindness darkens the future of the most vulnerable.
After just a short time working on our first project, we realized that assistance in providing eye care was not sufficient, and that long-term projects were necessary. In understanding the importance of local investment and involvement in health services, Eyes of the world has worked to create sustainable, local projects through advocating for the empowerment of local professionals to develop their own eye health care policies. In addition, our foundation works to strengthen the overall public healthcare services in the most vulnerable areas so that they become comprehensive, accessible to all, and integrated in national healthcare structures. Lastly, Eyes of the world also aims to educate those treated about conditions and practices necessary to reduce avoidable blindness, and raise awareness in society regarding the deficiencies in basic healthcare suffered by those living in poor and developing countries.
For more than fifteen years we have been contributing to the healthcare advancement of the Sahara, Mozambique, Bolivia, and Mali. Moreover, we have been advocates of and partners in the systematic changes necessary in the public healthcare structures of these countries. As a result, we have seen significant improvements in the quality of life for people and their communities, and hope to continue our work with the goal of furthering these positive results.
I urge you all to fulfill our society's duty to cooperate and work in solidarity with developing countries, and join the initiative for international improvement in the field of ophthalmic care promoted by Eyes of the world since 2001.
We rely heavily on the generous support from those who share a passion for improving the eyesight of less fortunate populations. We look forward to continuing our relations with the many volunteers—ophthalmologists, technicians, optometrists, nurses, logistics staff–, cooperative funds, organizations, trading houses, labs, supporters, and donors with whom we have partnered. I would finally like to thank all the people who have worked among us throughout the years; without their support, Eyes of the world would not be able to carry out its work.
Let us continue opening eyes to the world.
Rafael Ribó
President