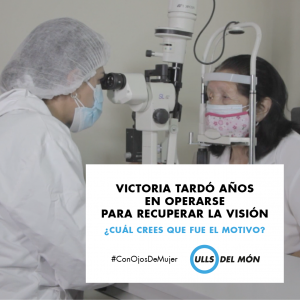 Since health care deficiencies, particularly for women and girls, are inherently global problems, a one-sided approach, focusing only on low-income countries, is not plausible.
To combat inequalities in access to eye health that occur around the world, the Foundation launches initiatives that seek to raise awareness in society towards social transformation, placing the right to health at the center of development priorities.
The campaign launched during the 2020 Christmas holidays aims to open a space for virtual reflection on inequity in women's access to eye health. For this reason, Eyes of the world proposes a critical analysis of reality, proposing what are the main barriers that prevent women from taking care of their eyes, mainly in the most vulnerable territories of the world, and addressing the consequences of gender inequality.
Through different questions and answers, Eyes of the world challenges citizens, fosters their commitment to the universal right to vision and promotes the mobilization of society as prescribers of the cause.
The campaign, posted on Facebook, Twitter and Instagram, uses innovative and attractive methodologies, such as the 'storytelling' -the presentation of different life stories-; and an adapted and inclusive language to capture the attention of the public and generate their interaction online.
The Eyes of the word Foundation, a benchmark in terms of poverty, gender and visual impairment, raises its social networks as a speaker for the violation of people's rights and, specifically through this initiative, the right of women to  fair and quality eye health. And, on this occasion, it has the support of the Catalan Agency for Development Cooperation and the Barcelona Provincial Council.