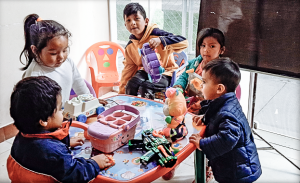 One of the goals of Eyes of the world is to provide a significant improvement in the living conditions of women in Bolivia. In order to do this, the Foundation wants to guarantee women right to eye health by ensuring that they have the same opportunities and resources as men when it comes to accessing this fundamental right.
Within the framework of Eyes of Bolivia Program and with the aim of contributing to gender equity in ocular health, efforts have been combined to decrease the inequality gap in Oruro and Tarija through various actions such as special attention to women, alliance with women's associations, training processes with gender approach and awareness campaigns.
As a result, it was found out that many women don't go to health centers because they are busy taking care of their children and/or grandchildren. They are also afraid that the children would bother the rest of the patients in the waiting room.
For this reason, the Foundation decided to implement a mobile play space for children which can be used during ophthalmological consultations. In this space children can have fun and play games while their mother or grandmother is at the consultation.
This initiative is a great step forward to get more women to attend health centers when being accompanied by children. In fact, many of them got to know about this initiative by neighbours reference or local radio stations that informed the population about this game space set up at the consultations.
This is one of the many actions carried out by Eyes of the world aimed at reducing the prevalence of eye diseases through an structural, community and gender equity oriented approach. A small idea, a great success.