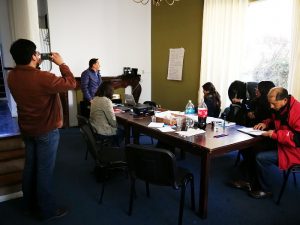 In the implementation of gender perspective in the actions that Eyes of the world takes on the ground, the Foundation is including the concept "new masculinities", questioning the traditional male model that assigns roles to each sex and generates patterns that reproduce stereotypes allocated to what is masculine and what is feminine.
The concept "new masculinities", as an alternative to the hegemonic masculinity, advocates for the change in the conventionalities contingent upon gender, fighting this way for equality. The "new masculinities" are characterized by compromise, reflexion and the practice to achieve the personal change in men towards equalitarian positions, aimed to reach a social model fair for all.
During the last summer, in the framework of the project Eyes of Bolivia, a workshop was held with the NGO Solidar Suiza in which, in addition to working in topics of awareness regarding ocular healthcare and ophthalmologic attention, the topic "new masculinities" was also discussed for the different actions that Eyes of the world is carrying out on the ground, especially those aimed at facilitating women's access to public health services in Oruro and Tarija.
The workshop discussed the importance of including men and family men in the women's training sessions as ocular health promoters. In this way, in the coming months, communication spaces will be established based on the exchange of experiences, opinions and attitudes in order to work on gender equity in the exercise of the right to health, as well as guaranteeing the social development of men and women.