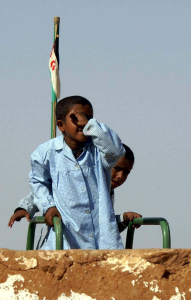 Eyes of the world has received with concern the turn in the foreign policy of the Spanish government in relation to Western Sahara and the impact that this new position may have on the health of the Sahrawi refugee population in the camps of Tindouf (Algeria), where the Foundation has an ophthalmological cooperation project underway.
The commitment of Eyes of the world to the Sahrawi people with visual impairments dates back to 2001, when it began continuous eye health care activities for the population of the camps. From then until now, more than 3,300 people have been operated on, mainly for cataracts, within the framework of a project that also includes, among other initiatives: training of local professionals (mainly opticians, nurses and teachers) who have been provided with knowledge in prevention, eye examination and optical correction; awareness of the population on basic eye health habits and early detection of refractive defects among school children.
The Foundation fears that the new uncertain scenario will have a negative impact on the health of the population, already punished in recent years by the consequences of, on the one hand, the mobility restrictions caused by the situation of insecurity in the area and, on the other hand, the COVID-19 health crisis. Furthermore, it adheres to the statement of the Coordinator of Organizations for Development (https://coordinadoraongd.org/2022/03/la-decision-del-gobierno-sobre-el-sahara-es-contraria-al- Derecho-internacional/) also joined by LaFede, which warns that this decision of the Government is contrary to international law.