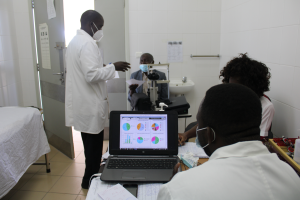 One of the goals of Eyes of the world is to contribute to the improvement of eye health systems and management procedures in each of the territories where it has ongoing projects. That is why a new surgery campaign will be carried out in Mozambique in 2022, in which BOOST technology will be implemented to monitor and improve the results of cataract surgeries.
As part of a commission to be held in 2022, the aim is to assess the usefulness of the BOOSTCataract application at Inhambane Provincial Hospital in order to improve the surgical quality of interventions.
Unoperated cataracts are the leading cause of blindness in the world: 35% of blind people around the world suffer from cataracts. That is why the application of new technologies and medical improvements in the treatment of this eye disease is essential.
The use of BOOST technology in the Eyes of Mozambique project is included in an application validation program around the world and was presented by ophthalmologist Mónica Lecumberri in the UOC e-project, in the framework of the University's master's degree in digital health. Lecumberri, a member of the Medical Committee of Eyes of the world who recently returned from Mozambique on a training trip to the local ophthalmology team, has won the award from the University and will receive a scholarship to fund the event. In the context of the surgical commission, the ophthalmologist, member of the Ophthalmology Service of L'Hospitalet General Hospital, will supervise the campaign and evaluate the surgical results with the use of the mobile application.
What BOOST technology is and how it works
BOOST (Better Operative Outcomes Software Tool) is a simple, free and easy-to-use application that aims to help surgeons monitor and improve the results of cataract surgery. It was launched at the 2018 World Ophthalmology Congress in Barcelona.
A study published in the Lancet Global Health included 40 low- and middle-income hospitals in 12 different countries and showed that measuring vision immediately after surgery is a valid indicator of quality.
BOOST guides users through simple steps to capture data the day after surgery, analyze its results, and compare performance with data from other users around the world. Subsequently, it also automatically suggests customized strategies to help further improve quality.
This technology not only helps individual physicians, but also provides a platform for governments, NGOs, hospitals, and training institutes to easily monitor the results of cataract surgery. BOOST supports and encourages continued professional development among cataract surgery teams worldwide.