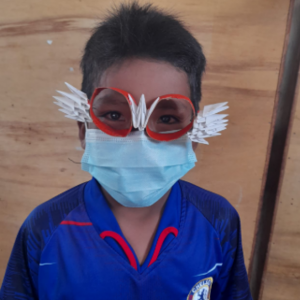 As every year, World Sight Day, organized by the International Agency for the Prevention of Blindness (IAPB), has arrived, and the Eyes of Bolivia program did not want to miss the opportunity to set up different activities in the three action territories: Chuquisaca, Oruro and Tarija. During the days leading up to and following October 14, all kinds of activities have been carried out to draw the attention of the population to the importance of eye health.
During this period dedicated to vision with more emphasis than ever, an inter-institutional fair was held in Chuquisaca where around a thousand people attended through lectures, distribution of banners and brochures which included topics such as: treatment of cataract blindness, eye care through the use of lenses, sunglasses, use of hats for UV protection, good nutrition and regular visits to the ophthalmologist.
In the context of the fair, activities aimed at children were carried out, such as a competition to make frames with recycled materials, in which almost 40 children from different schools took part. A task of raising awareness of eye problems while focusing on the sustainability and importance of recycling.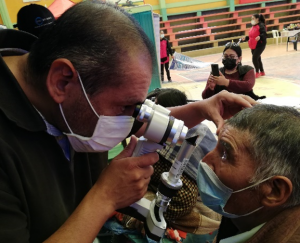 World Sight Day was celebrated in Oruro with the inauguration of the Ophthalmology Service at the Hospital San Juan de Dios, led by the Ministry of Health and Sports and the Government of Oruro. An eye health fair was also held, with 500 participants, in coordination with the Bolivian Institute for Blindness (IBC). The population was sensitized through the presence of Ojitron, Super Naira and Leo Gafas, three superheroes created by Eyes of the world in order to get closer to the child population. In addition, visual acuity tests were performed on people with disabilities and corrective lenses were distributed.
A popular walk was the main event that took place in Tarija with the participation of 200 people. Hats, caps and goggles were distributed for the protection of the sun's rays, which cause eye diseases among the population. In addition, a TikTok video call was launched for primary and secondary school students with the theme 'prevention of eye health'. On the other hand, an eye health fair was organized to raise awareness among the population about the prevention of eye diseases through the distribution of leaflets, hats, bags, cases, notebooks, and a press conference attended by 13 media outlets in the region, with an audience of 2,000 people.
Also in La Paz, a large banner occupied the main facade of the Ministry of Health for the next two weeks, celebrating World Sight Day and recalling the initiative launched by the IAPB with the slogan #LoveYourEyes in which they encouraged as many people as possible to get their eyes checked.