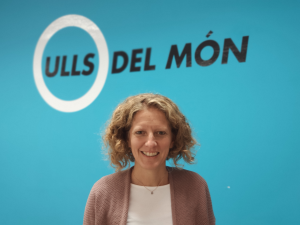 Eyes of the world unveils a new director, Anna Barba i Giró. Graduated in Law, postgraduate in Direction and Management of NGOs and other non-profit organizations and with a master's degree in Globalization, Development and Cooperation, she started her work beginnings in the world of law, specifically in the banking legal advice sector. In 2011 she decided to give her professional career a spin and went to live in India, motivated by a desire to know and contribute to building more just societies. There she confirmed her willingness to work in the third sector and began her commitment to EDUCO (Education and Cooperation Foundation), an international cooperation NGO that fights to make children's rights effective, specifically education, protection and participation, going through different positions up to becoming deputy director general, being responsible for the intervention strategy in the different countries where the organization works in Asia, Latin America and West Africa.
Passionate about people and captivated by working with different cultures, after a few years she opted for social action in Catalonia as part of the Surt Foundation (a social action entity aimed at making effective the economic, social and cultural rights of women ). Within the organization, she was operational director, responsible for the gender equity and consulting services area, and a member of the steering committee until 2021.
Her social commitment extends beyond her work environment, as she is also a volunteer for the Hospitality Network program of the Migra Studium Foundation and has been the patroness of the ADA Foundation for the development of the adivasis, the indigenous populations of India.
Both Eyes of the world and Anna Barba face this new stage with great enthusiasm, starting from the same values and with great will to grow and improve the impact of the cooperation projects that the Foundation has underway.