Eyes of the world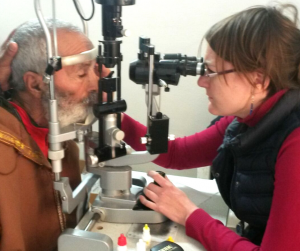 has given consistent assistance over the past six months to the refugee population of Sahrawi with the presence on the ground of Dr. María Sanchidrián. It is the first time that the Foundation has done a project for this long. During this time, we have treated patients of all ages in ophthalmology consultations and have trained 14 technicians in optometry with a focus on the management of consultation devices.  In addition, eye surgeries have been performed, mainly for cataracts and glaucoma.
Dr. Sanchidrián, born in Ávila, has a degree in ophthalmology and a diploma in optometry and has experience in international cooperation projects since 2010. Two years ago, she moved to the Sahrawi camps with the Foundation.
The health situation in the refugee camps is precarious and depends, to a large degree, on foreign aid and the presence of international organizations, such as Eyes of the world.
The Sahara desert is probably one of the places in the world with the highest incidence and prevalence of ocular pathology due to several factors. Among them is the geographical situation—being one of the largest deserts in the world, sunlight and sandstorms are plentiful causing vision loss.
Other factors include the lack of health education, the lack of development of the health system, and the advent of new diseases such as diabetes. In addition, the lack of permanent assistance in ophthalmology (despite periodic commissions that move in the field) aggravates the situation. Even so, during these six months Eyes of the world has influenced the formation of local teams so that from no one they can work in a more autonomous and consistent manner.
This commission forms part of the Eyes of Sahara project, and is financed by the Spanish Agency for International Cooperation for Development, which aims to improve the visual health of the Sahrawi refugee population.