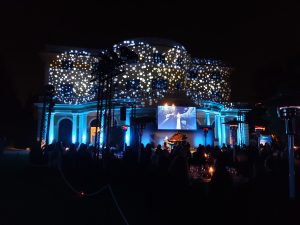 The Eyes of the world Foundation has celebrated a very special evening this past October 14th on the occasion of its annual solidarity dinner -The Night of the Eyes of the world-, which, this year, has gained special relevance for the coincidence with the commemoration of the 20th anniversary of the Foundation. Through this dinner, whose main objectives were to raise awareness in Catalan society and raise funds to continue fighting against preventable blindness, Eyes of the world has raised 130,000 euros to be used for the implementation of projects underway in people's camps Sahrawi refugees from Tindouf (Algeria), Mozambique, Bolivia and Mali.
The private garden of the Pedralbes Palace in Barcelona has been the idyllic setting where the event chaired by the Minister of Health Josep Maria Argimon took place. The event, which brought together more than one hundred and eighty people, was led by actors Montse Guallar and Queco Novell. In addition, attendees enjoyed the performance of pianist Albert Guinovart and a speech on the importance of vision by the hand of the writer Eduardo Mendoza.
The whole event revolved around the 20 years of dedication opening the world's eyes: the eyes of people who do not have the resources to access equitable eye care; and the eyes of the people around us, towards the precarious situation in which the most vulnerable societies live. Núria Ramon, director of the Foundation until this year, also wanted to mention the work carried out by the Foundation's team (operational and voluntary) during these twenty years.
The Night of the Eyes of the world has also coincided this year with the celebration of World Sight Day organized by the International Agency for the Prevention of Blindness (IAPB), of which the Foundation is part of the Council Adviser, with the aim of raising public awareness of the importance of blindness prevention and influencing health authorities to support eye health.