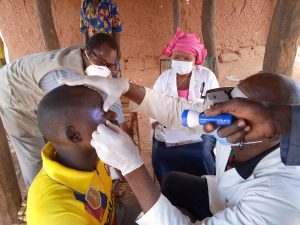 The European Society of Cataract and Refractive Surgeons (ESCRS) has donated €17,000, and €10,000 more in a second phase, to the Foundation to guarantee care for eye emergencies in Mopti region (Mali) during the COVID-19 threat.
This amount will be devoted to enhance prevention and protection measures, both for eye health professionals and their patients, and in this way safely guarantee the 100% assistance for eye emergencies (pathologies, vision loss, foreign bodies…) among the eight districts of Mopti region and at Sominé Dolo Hospital.
Eyes of the world, in agreement with health authorities and the specific action plans for Mopti region, will deliver to Malian units 1,620 masks, 3,750 pairs of gloves and hygiene and hand washing equipment. Also, Eyes of the world will distribute Android devices to each health unit leader so they can perform telemedicine in order to avoid crowds in hospitals that could lead to exposure to the virus and a rise in infections.
In addition, the optical workshops will be provided with 235 pairs of eyeglasses so they can assist emergency cases of losses or breaks.
Thanks to ESCRS' collaboration and their commitment supporting the ophthalmologic community during the pandemic, Malian units will be able to accomplish their health work while maximising precautions to face Coronavirus. They will treat the urgent eye conditions of a community that lacks resources and lives in one of the most vulnerable areas in the world.
ESCRS and Eyes of the world, jointly, have previously achieved important successes for the Universal Right to Sight, improving eye care in communities such as Inhambane, in Mozambique.