Eyes of the world adds a new activity to the ophthalmological consultation campaigns organized in the sites of the population displaced by internal conflicts: food assistance, a priority for 91% of this population.
Nutritional deficiencies aggravate the suffering of patients and increase the risk of mortality, and the most vulnerable group are children who suffer from a true acquired nutritional immunodeficiency syndrome.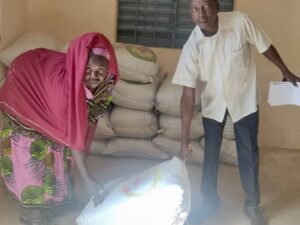 In December, the local social development and solidarity economy services of the health districts of Bandiagara, Bankass, Djenné, Douentza, Koro, and Mopti collaborated in the purchase and organization of food for the additional nutritional programme of the Foundation. Providing a basic diet also improves eye health since it reinforces protection against some pathologies.
At the same time, during the month of December, free ophthalmological consultation campaigns were carried out in the camps with the donation of medicines for treatment:
– In the Bankass district, 3,025 people were treated (1,004 women, 1,211 men, 404 girls, and 406 boys).
– In the Douentza district, 1,185 people were treated (318 women, 102 men, 408 girls, and 357 boys).
– In the Bandiagara district, 1,289 people were treated (391 women, 300 men, 317 girls, and 281 boys).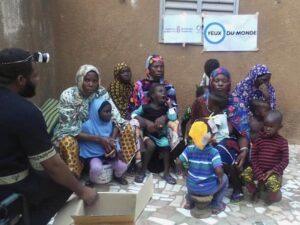 In addition, surgical kits (medications and consumable medical supplies) were donated, allowing 235 cataract operations to be performed at the CSFéf in Douentza. And in the advanced surgery campaigns at the Bandiagara, Bankass, and Koro reference centers, 83 patients were operated on.
These activities of the Eyes of Mali project have the support of the Government of Navarra.