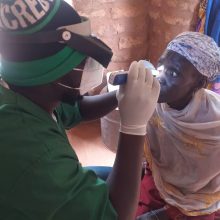 COVID-19 is a global crisis and as such requires global responses: governments, organizations from all sectors, professionals and the like have been working together, and continue to do so, in order to prevent, detect, and respond to the different requirements that have arisen.
The European Society for Cataract and Refractive Surgeons (ESCRS), loyal to its commitment to provide all support necessary during the pandemic, has aided the work of the Eyes of the world in Mali.
During the most intense months of the crisis, Eyes of the world, in agreement with the healthcare authorities in Mali and with the help of the ESCRS, has guaranteed attention to ocular emergencies in eight healthcare centers in the Mopti region, in additional to its regional hospital, covering a total population of around 2,721,000 inhabitants.
The coronavirus is an additional stress to an already weakened Mali healthcare system, negatively affecting the most vulnerable. The hospitals and healthcare centers do not have the necessary installations and equipment to deal with severe diseases such as malaria, HIV/AIDS, and tuberculosis without having to manage COVID-19. In addition, public health measures such as social distancing and hand washing are difficult to implement in sub-Saharan regions. The Mali government has, however, approved a National Prevention and Response Plan for the Coronavirus pandemic which Eyes of the world has followed.
The specific action plan for the Mopti region includes safety measures for the healthcare workers so that they can continue to provide services, including attention to ocular emergencies (mainly loss of sight, foreign bodies, and replacement of broken or lost glasses).
Eyes of the world has played a key role in assisting first line response to COVID-19 in the region. To be more exact, it has provided support for emergency ophthalmologic interventions and reinforced ophthalmologic services, converting them into secure areas for those who need to be examined. Thanks to ESCRS funding, personal protection equipment and material for hygiene and hand washing have been supplied for the safety of the workers and patients in all the region's healthcare centers.
New communication technologies for the healthcare workers have also been provided so that they can maintain contact with the patients and assist them all equally.
A total of 817 patients have been treated and another 1,701 attended by telephone.