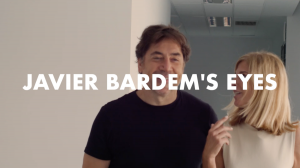 The Eyes of the world Foundation has launched the "Iris of the world" project, which consists of obtaining an exclusive photograph of a famous person's iris to auction it and raise funds. In turn, it hopes to raise awareness about the deficiencies in eye care in the most vulnerable territories and defend their right to sight.
Actor Javier Bardem is the first celebrity to support the initiative and has 'donated' his iris. In this way, the actor's eyes will help open other eyes.
Depending on the resources obtained, the Foundation will allocate the profits from the collection to expand its lines of action and/or promote new projects in the Saharawi camps, Mozambique, Bolivia or Mali, territories in which it operates.
"Being able to see, being able to hear, being able to touch or being able to hear are things that we do not recognize until we lose them. Having access to all the emotions that enter through sight and that affect sensitivity is an emotional and spiritual revolution. For this reason, I am happy to collaborate with 'Iris of the world' by donating a photograph of my iris to be auctioned and continue helping the Foundation's work on avoidable blindness", said Javier Bardem.
With a starting price of 9,000 euros, the auction is aimed at all those who want to obtain the certified and exclusive photograph of Javier Bardem's iris. The image will be delivered to the buyer in two formats: a digital NFT file and a printed photograph signed and dedicated by the actor. You can participate through the specific website of the project www.irisesoftheworld.org from September 29th to October 6th.