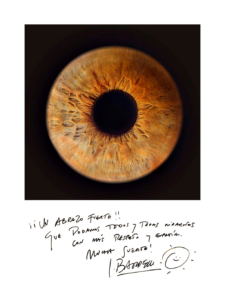 Thanks to the solidarity of Javier Bardem, who donated the recently auctioned photograph of his iris to Eyes of the world, the Foundation will be able to make progress in eradicating avoidable blindness in some of the most vulnerable areas of the world. Specifically, 200 people who are blind (or at risk of losing their sight) due to cataracts will be able to undergo surgery and see again.
The buyer of the work has taken home a certified and dedicated piece (both in NFT and printed format) and, in turn, has contributed, with his or her bid, to advancing the sustainable development goals so that there will be no blind people in the world due to preventable or curable causes.
The auction of Bardem's iris image is part of the Iris of the world project, which consists of obtaining an exclusive photograph of a famous person's iris to auction it off and raise funds. At the same time, the action also aims to raise awareness of global inequalities in eye care and to defend the universal right to sight.