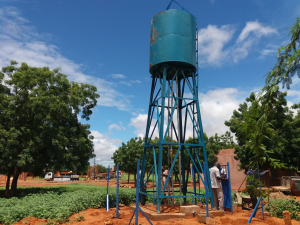 In the framework of the Eyes of Mali project, in recent years, it has been seen that environmental sustainability within the world of eye health is paramount. In an area of the world where scarcity, drought and people displaced due to armed conflicts prevail, the action of Eyes of the world in reference to hygiene and care for the environment has a direct impact on improving eye well-being.
For this reason, Eyes of the world, in the Mopti region, aims to guarantee sustainable consumption and health production patterns. According to the IAPB Guide to Sustainable Practices, global health services are a massive consumer of resources and a major emitter of greenhouse gases. Global health services are responsible for 2 billion tons of carbon dioxide equivalent to 4.4% of all net greenhouse gas emissions. For this reason, the project foresees equipping and training health personnel to manage biomedical waste.
Second, the Foundation wants to guarantee the availability and sustainable management of water and sanitation for all, with the construction and commissioning of latrines and water points. This process goes hand in hand with the environmental component of the SAFE strategy decreed by the WHO as part of the fight against trachoma, a disease that most severely affects women.
The third point with which the Foundation works is to directly strengthen human capacities so that the sustainability project has a long and healthy life. The key lies in the active participation in the process by the population that becomes aware of the importance of the environment through training in environmental management issues. Talks and workshops are held, especially for women at risk of social exclusion.
In Mali, Eyes of the world also strives to make purchases more sustainable every day, reducing the use of fossil fuels and maximising the use of renewable energy. And it tries to green its travels and implement sustainable thinking through education. Despite the path traveled so far, there are still many actions to be implemented in the country to achieve the Sustainable Development Goals (SDG) planned for 2030.
The environmental improvement activities currently being carried out in Mali are financed by the Provincial Council of Bizkaia.