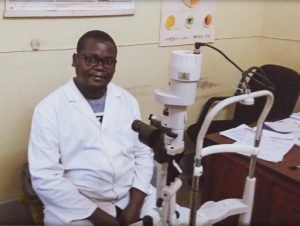 After a year without the support of a local specialist, on the 28th of March, Dr. Assan joined the Ophthalmology Service of the Provincial Hospital of Inhambane, a participant of the Eyes of Mozambique program.
Dr. Assan recently finished his training in Kenya, and ended his residency in Maputo at the beginning of the year. Eric Lavis, the coordinator of the Eyes in Mozambique program says, "his arrival represents a great advance for the ocular health program of the Province of Inhambane, it will now be possible to reinitiate the decentralization of cataract surgery" thanks to the ophthalmology consultations that the doctor will attend in the districts of Vilankulo, Massinga, Chicucos, Inhambane, and probably in the city of Zavala.
In order to carry out these consultations and cataract interventions, Dr. Assan will face the challenge of managing the availability of often scarce ophthalmological materials and equipment, and combating the obvious need for an increase in human resources in the ocular health sector.
Dr. Assan's appointment also marks a positive step toward the concretion of the memorandum the Foundation signed with the Ministry of Health and the Provincial Health Directorate of Inhambane, which aims to improve eye care of the population of Inhambane. And more specifically, aims to increase the number of professionals linked to the ophthalmology services of the province in the next 3 years.
With this introduction, Eyes of the world advances down the road of bringing eye health to the most vulnerable populations in Mozambique.
Welcome, Dr. Assan!