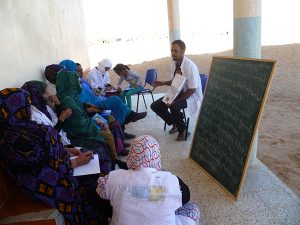 During the last months, there have been different changes in the ophthalmologic attention inside the Sahrawi refugee camps.
In October, Dr. Monica Lecumberri joined the programme Eyes of the Sahara as a new medical supervisor. Dr. Lecumberri is a Catalonian ophthalmologist with a Degree in Medicine and Surgery from Universitat Autonoma de Barcelona (UAB), with a long experience collaborating with the Foundation. She has been participating in different surgical commissions in Mozambique and the Sahrawi refugee camps since 2014. She has also contributed as a speaker in different courses hosted by Eyes of the world and ALCON, delivering specific trainings in SICS technique to other professionals. Here is the interview we did.
Another novelty that is a great step ahead the Foundation had been long fighting for, is the hiring of a professional ophthalmologist from the RASD Public Health Ministry (Sahrawi Arab Democratic Republic), to improve the consultation and surgery activities in Rabuni's National Hospital.
This new addition means a substantial change in the improvement of visual health assistance in the least favored areas of the Sahara, as from now on, the population will be receiving ophthalmologic attention on a permanent basis. Eyes of the world collaborates with the economic incentive for the specialist, as well as donating medicines, fungibles and equipment to facilitate her work.
Moreover, in November, the Sahrawi Public Health Ministry appointed Hamudi Mojtar as General Manager of the National Ophthalmologic Department, where he had joined back in 2011 as an optometrist.
These three changes, together with the daily effort put in the Sahara project, mean an improvement in the conditions for the Tindouf's refugee population with visual impairments. They will be able to access a permanent and qualified ophthalmologic care provided by the local health services.
All throughout 2018, the project Eyes of the Sahara has counted with the support of the Spanish Agency for International Development Cooperation and the City Councils of Santa Coloma de Gramenet and Sant Fost de Campsentelles.