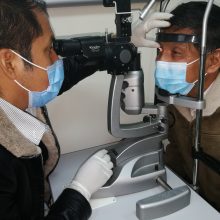 In the last surgical commission of 2020 organized by Eyes of the world in Oruro, which took place from December 14 to 19, 23 patients underwent cataract surgery. The commission was carried out with all the protection and prevention measures established by the COVID-19 protocols and was led by Dr. Estanislao Titirico, ophthalmologist from the Ministry of Health, accompanied by Dr. Marco Mareño, also from the Ministry of Health; Dr. Mauricio García, head of ophthalmology at Oruro Corea Hospital, and Dr. Jimmy Delgado, from the Ophthalmology Service of San Juan de Dios General Hospital.
One of those 23 patients was Emilio Rodríguez, 63 years old and native of Oruro.
"No person should go blind if he can be cured"
Emilio began to see blurred and with increasing difficulty about five years ago. The loss of vision was increasing, which prevented him from doing his job and any daily activities.
His surprise was that when he decided to get glasses and went to the specialist: the ophthalmologist diagnosed him with cataracts and explained that he needed surgery. But the costs were unaffordable. He did not know where to ask for help, until finally Dr. Israel Ramírez, director of San Juan de Dios Hospital, explained that Eyes of the world was going to organize a surgical commission and that he could benefit from the surgery.
The intervention was carried out successfully, he regained his vision and returned to his life, his activities and his independence. In addition, he became an enthusiastic prescriber, helping other people by providing information about eye health. His own words could not put it better: "No person should go blind if he can be cured."