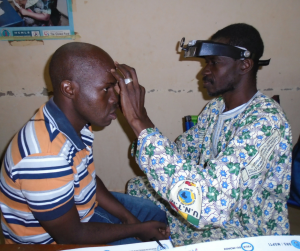 Last August, Eyes of the world organized a new medical-surgical ophthalmological commission in which 502 people from the city of Ténenkou in the Mopti region, received free eye care and cataract surgery.
This is a great achievement, bearing in mind that the Foundation was the only organization that acted with a primary eye health program in the area, which did not have an ophthalmological health system or any kind of humanitarian aid for many years.
The medical team was comprised of local professionals from the region:  Dr. Ibrahim Bamanta, ophthalmologic surgeon; M. Boubou Diallo, medical assistant at Sominé dolo Hospital in Mopti; M. Emmanuel Koné, medical assistant at the benchmark health center of Bankass; M. Seydou Diakité, nurse; Moustapha Samassekou, administrator of Social Action SLDSES; and Hamadoun Sow, nursing intern.
In addition, the Foundation also conducted a satisfaction survey among the patients operated on. From the results, we concluded that 98.8% of the people served in this commission were satisfied with the treatment from technical staff, medical equipment, and medical services received. Also, 72.3% expressed satisfaction with the state and location of the premises.
However, according to the survey, one aspect to improve is to have more drugs available in order to ensure that after interventions, all patients have enough free medication to follow the postoperative treatment.
The solidarity actions carried out within the Eyes of Mali project are financed by Obra Social "la Caixa" and the College of Physicians of Gipuzkoa.