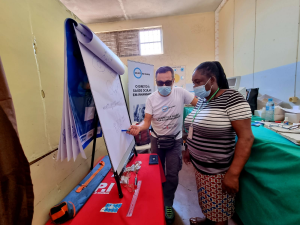 One of Eye of the world's main goals is to strengthen the local population's abilities and skills so that they become eye care professionals and that in the long run they can be self-sufficient in their territories. In order to strengthen this initiative, this year, a campaign of ophthalmologists, medical technicians, optometrists and opticians has been organized in hospitals with eye health service in Inhambane Province, Mozambique.
The training has been provided by Dr. Carlos Móser (ophthalmologist and medical supervisor of the Eyes of Mozambique project), Dr. Mònica Lecumberri (ophthalmologist and member of the Medical Committee of Eyes of the world), the optometrist, Enrique Ripoll, and an electromedicine technician, Albert Montañés, who moved to Mozambique from  September 17th to October 2nd, taking advantage of the lifting of travel restrictions imposed by the COVID-19.
The campaign has consisted mainly of reviewing and strengthening the capabilities of local ophthalmologists in the operations of cataracts and pterigion, teaching them new surgical techniques and supporting the more complex surgeries. Within the framework of this committee, the eyesight of 73 patients has been checked, 27 men and 46 women, and 19 have been operated on (10 women and 9 men).
The Foundation has also wanted to focus on strengthening the skills of local professionals in consultation and in various fields. From the selection of patients for cataract surgery, to the diagnosis of glaucoma or trachoma, and also placing emphasis on pediatric ophthalmological care. On the other hand, optometrists have been trained in refraction.
Another very important part of the campaign has been the review of all the ophthalmological equipment of the Inhambane Provincial Hospital and the Inhambane and Vilankulos optical shops, as well as the strengthening of the capacities for women responsible for the optical workshop and assembly of eyeglasses.
These activities have been made possible thanks to funding from Hondarribia City Council and the Calouste Gulbenkian Foundation.