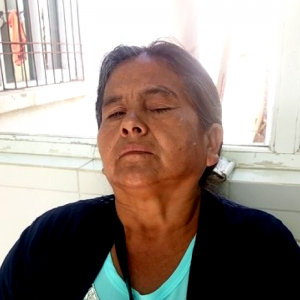 This is what the protagonist of our story said when she removed her eye protector patch after having cataract surgery. Though only two words, two words that say a lot.
Felipa Romero is a woman from the neighborhood of San Jerónimo de Tarija (Bolivia). For many years she was a baker, and some time ago her eyesight started to deteriorate until she lost all sight in her left eye. With the loss of vision, her work with an oven became increasingly difficult. This forced her to stop baking little donuts, which was how she supported her family.
Felipa thought that the loss of vision was a matter of age. Furthermore, she did not want to go see a doctor as she was scared.
One day, with her friend and classmate Ubaldina, who had already been operated on by Eyes of the world, Felipa heard on the radio that there was a new campaign of free surgeries in Tarija. So, Felipa traveled to the San Juan de Dios Hospital and was scheduled for cataract surgery the next day.
The operation went very well. Upon awaking, her first words were: "¡Veo clarito! ¡Veo clarito! Doctor, gracias, muchas gracias. Muchas empanaditas voy a hacer en mi horno, sin tropezarme con las latas. Con el miedo que tenía a operarme, gracias a Dios por su ayuda."
"I see clearly! I see clearly! Doctor, thank you, thank you so much. I will make many little empanades  in my oven, without tripping over the cans. With the fear I had of the operation, thank God for his help."
Felipa Romero is one of the people who has seen and lived again thanks to the work of the Foundatio's Bolivia team.
We will continue fighting to bring light to as many stories as necessary, to say goodbye to the darkness.