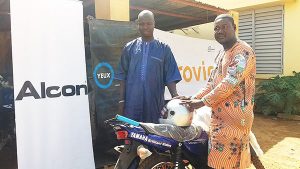 In February, the team of Eyes of the world based in Mopti (Mali) implemented the following activities aimed to improve the access of the Malian population to eye care:
Gender equality training aimed to local employees. Examples of gender stereotypes and their impact on society and health were shared. A number of initiatives addressed to fight the barriers women and girls are facing to accessing eye care were also topic for discussion.
Early detection eye screening tests conducted in 27 elementary schools in Bankass and Djeene. The Foundation donated 99 pairs of prescription glasses among 44 students from Djenne's Pedagogical Animation Center (CAP), 17 more to students from Bandiagara's center, 17 pairs to students from Koro, 5 pairs to students from Mopti, and the remaining 16 pairs to students from Bankass.
Post-surgery follow up consultations for patients done at the referral health centers in Koro (5 men and 5 women) and Bandiagara district (12 men and 14 women), during the month of November.
One week courses on practical training for technical directors of community health centers, in the districts of Djenne and Koro. Among other topics, it was discussed how to enhance the triage (initial first level consultation) in order to refer the patients to more specialized levels of eye care attention.
Donation of a motorcycle for the Health Reference Center in Koro. The vehicle will be used by the Ophthalmology clinical assistant to be able to reach the villages with difficult access of the area, examining those people who are not able to travel to the health center, diagnosing cataract and trichiasis cases in order to be able to schedule the surgical interventions led by the Comissions, and also to reach certain schools and perform vision screening tests.
The Project Eyes of Mali counts with the support of the Kutxa Foundation, and in the month of February, has also benefited from the donation of medical equipment by AZ Medical. More specifically to the referral centers of Bandiagara, Bankass, Djenne, Douentza, Koro and the Somine Dolo Hospital in Mopti.